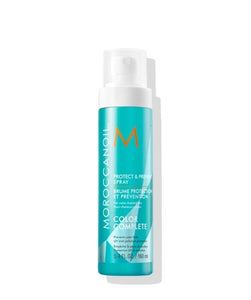 Moroccanoil Color Complete Collection, a revolutionary 360°approach to colour care that starts in the salon and is maintained at home. The collection helps your haircolor last longer between appointments, preserving the sense of confidence you gain from salon-fresh colour. The last step in the Color Complete regimen, Protect & Prevent Spray helps keep haircolor from fading or becoming brassy by protecting it from daily environmental factors that weaken the hair. Its comprehensive approach to combatting these factors includes:
• A blend of antioxidants to neutralize even the most aggressive free radicals generated by UV, pollution and other environmental stressors
 • Sunscreens to help absorb UV rays
• Thermal protection against heat
• ArganID™ micro-encapsulated technology to repair and seal the cuticle, infusing argan oil into the cortex and locking in colour In addition to its superior protection and prevention abilities, it also functions as a weightless detangling spray, increasing hair's shine and softness with every use.